COVID and Mental Health
Mental health, substance use, and suicidal ideation increased during the COVID-19 pandemic.
40% of U.S. adults reported struggling with mental health or substance use during the COVID pandemic.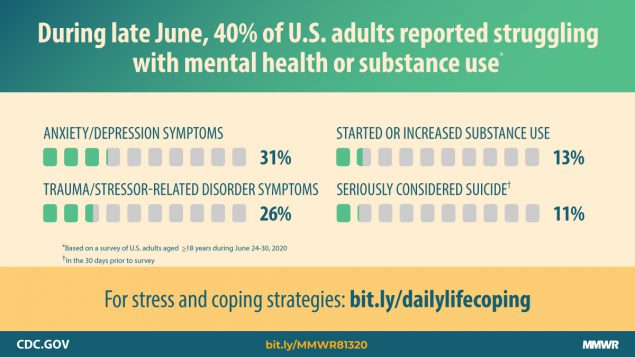 Younger adults, racial/ethnic minorities, essential workers, and unpaid adult caregivers reported having experienced disproportionately worse mental health outcomes, increased substance use and elevated suicidal ideation.
Recommendation: public health response to the COVID-19 pandemic should increase intervention and prevention efforts to address associated mental health conditions.
Machine Learning & Artificial Intelligence algorithms and syndicated tools can identify at-risk populations.
Syndicated tools identify subnational geographic areas of concern among priority population segments; young adults, racial/ethnic minorities, essential workers and unpaid adult caregivers.
Integrating syndicated ML/AI tools with public, community, educational, employer, health system(s) and corporation data enables prioritization within subsets of the populations and persons at risk.
Mental Health, Substance Use, and Suicidal Ideation During the COVID-19 Pandemic — United States, June 24–30, 2020. Weekly / August 14, 2020 / 69(32);1049–1057.